« Back to all recent discussions
What is Multy U (WSR30)?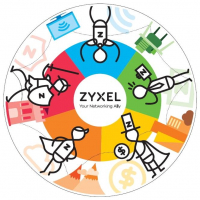 Zyxel_Support
Posts: 431
Zyxel Moderator
Multy U (WSR30) is designed to provide our homes with comprehensive WiFi coverage, with no blind spots.
Tri-band Dedicate superhighway
Multy WiFi System creates a high speed Internet superhighway for all of your devices no matter where your devices connect the system.
Unified WiFi name and password
Multy WiFi System operates as one network and continuously searches for your connected devices. This ensures a 100% seamless connection as you move throughout your home.
Meet the intelligent mesh WiFi technology
If someone accidentally unplugs a node, the other nodes will pick up the slack, so you don't lose your WiFi connection. Even with a busy network, Multy U (WSR30) know how to select the fast way to transfer traffic.
Nodes can connect Wired or Wireless
Multy U (WSR30) can be connected together via Ethernet backhaul or wireless. If your home is already wired with Ethernet, you may want to take advantage of these connections to increase the range of your Multy U (WSR30).