« Back to all recent discussions
What is Multy Plus (WSQ60)?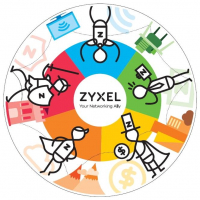 Zyxel_Support
Posts: 426
Zyxel Moderator
Multy Plus is an AC3000 Tri-Band Mesh WiFi System delivers a reliable WiFi solution for businesses with large environments. Multy Plus is created as a WiFi system to adapt to users' ever-multiplying network needs, providing reliable coverage and high-performance networking.
Designed for Small Businesses
Create a fast and reliable wireless network for your business. Includes Gigabit Ethernet ports for maximum wired network speed between your devices.
Powerful Tri-Band Mesh Technology
Experience no degradation in speed and reliability with its dedicated wireless backbone for creating large wireless network coverage in your business environment.
Wired-Free Installation Expansion
Multy Plus does not require wired connection between Multy Plus nodes, freeing you from cable installation. Save time, money, and headache with Multy Plus' easy installation kit.
Guest WiFi Hotspot with Captive Portal
Provide your customers/guests with fast and reliable WiFi network without interfering your own business network. Enable a web captive portal to provide your terms and condition for WiFi connection to your customers/guests.